The all-new Fire HD 10 features our largest display, now in 1080p Full HD, 32 GB storage, 2 GB RAM, and up to 10 hours of battery. Now with Alexa hands-free.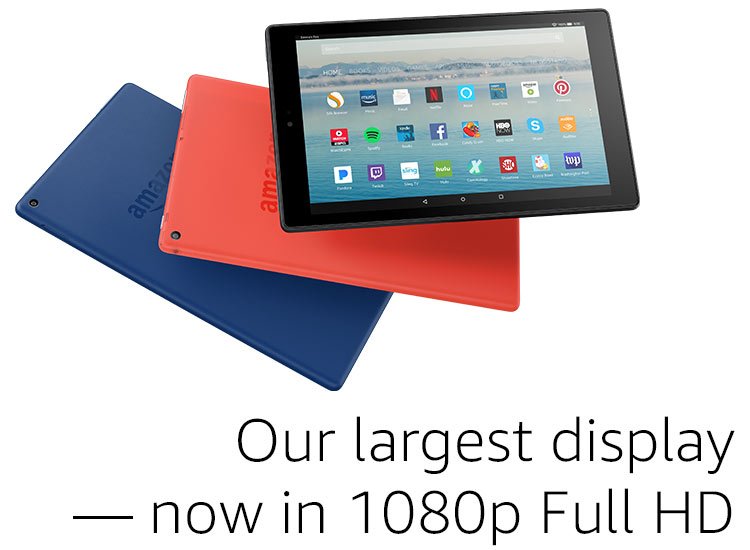 Expansive and immersive
Fire HD 10 features a brilliant 10.1″ 1080p Full HD display (1920 x 1200) with over 2 million pixels (224 ppi). Enjoy widescreen movies, videos, and games with wide viewing angles, less glare, and more brightness thanks to a stunning IPS (in-plane-switching) LCD display.
Fast and responsive
Fire HD 10 is now 30% faster thanks to 2x the RAM over the previous generation and a more powerful quad-core processor. Two 1.8 GHz cores and two 1.4 GHz cores run simultaneously, delivering quick app launches, smooth games and videos, and great overall performance.
No more worrying about storage space
Fire HD 10 comes with the most internal storage of any Fire tablet at 32 or 64 GB, great for offline video watching. Expand your storage by up to 256 GB using a microSD card, and keep photos, favorite movies, and compatible games and apps with you. Plus enjoy free unlimited cloud storage for all your Amazon content and photos taken with your Fire tablet.
Power when you need it
Don't be tethered to an outlet—now with up to 10 hours of mixed-use battery life, Fire HD 10 gives you more flexibility to go where the day takes you.
Capture life's moments
Fire HD 10 features a 2 MP rear-facing camera for taking photos or shooting 720p video. The front-facing VGA camera is perfect for Skype calls with friends and family.
Engineered by Amazon
Amazon engineers Fire tablets to hold up against everyday life. As measured in tumble tests, Fire HD 10 is more durable than the latest iPad Pro 10.5″ (and costs a lot less too).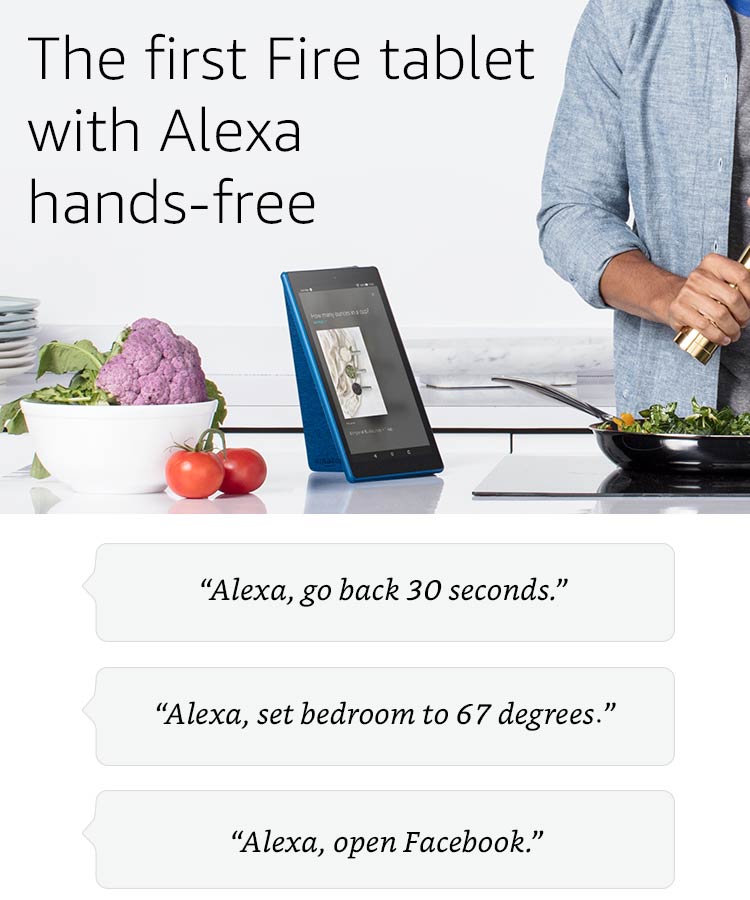 Alexa on Fire tablets
Alexa, the brain behind Echo, provides quick access to the information and entertainment you want, including video, music, games, audiobooks, and more. Ask Alexa questions, see your calendar, get news, show sports scores, and even control your smart home—just ask.
Now with hands-free mode
When connected to Wi-Fi, simply say the wake word, "Alexa." Alexa will respond to you—even when the screen is asleep—and will show visual responses to certain questions.
Everyday tasks made easier
Alexa on Fire tablets helps make every day easier. Just ask to set alarms and timers, check traffic, your calendar, to-do or shopping lists, and more. You can order millions of items with your voice, such as household and personal care products.
Be entertained
Whether you are playing and pausing your favorite movie, starting a playlist, or need a quick joke, you can ask Alexa and stream directly over Wi-Fi. Alexa also provides voice control for Amazon Video, Prime Music, Pandora, iHeartRadio, TuneIn, and more.
Voice control your smart home
Alexa works with devices such as lights, switches, thermostats, security cameras (coming soon), and more from SmartThings, Insteon, Nest, ecobee, Arlo, Ring, and Wink. Dim the lights from the couch to watch a movie or change the temperature on your thermostat while reading in your favorite chair—all without lifting a finger.
Alexa responds intelligently
If you have more than one Alexa device nearby, Alexa responds intelligently from the Fire tablet or Alexa device you're closest to. If you want a device other than your tablet to respond more often, you can do that too.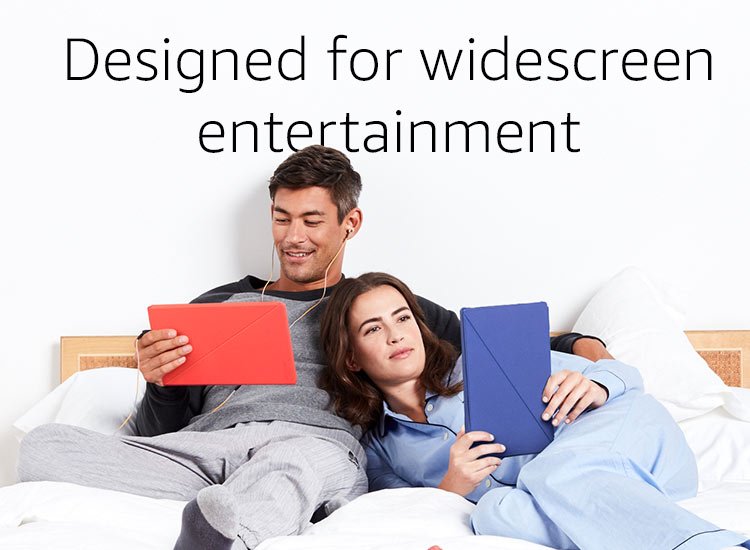 Watch in 1080p Full HD
Enjoy all your favorite movies and TV shows on Amazon Video, Netflix, HBO NOW, Sling TV, and more (subscription fees may apply). Discover hundreds of thousands of TV episodes and movies, plus fling Amazon Video content to your Fire TV using Second Screen. Enhance your video experience with features you only get from Amazon, including On Deck for watching videos anywhere, ASAP for fast video streaming, and X-Ray to go behind the scenes of your favorite movies and TV shows while you watch. Watch downloaded videos anywhere with a Prime membership, Netflix plan, or Showtime subscription—on a plane, on vacation, in the car, or wherever you don't have a wireless connection.
Read
Choose from millions of Kindle eBook and magazine titles that you won't be able to find anywhere else. Over 1 million titles are priced at $2.99 or less. Or read as much as you want with a Kindle Unlimited subscription for just $9.99 a month. Connect with the largest online community of book lovers on Goodreads. Read comfortably at night with Blue Shade, an exclusive Fire OS feature that automatically adjusts and optimizes the backlight for a more comfortable nighttime reading experience.
Listen
With millions of songs from thousands of artists, the Amazon Digital Music Store brings all your favorite music to your fingertips. Music you buy on your Fire tablet is saved to Your Music Library for free, and you can play or download it anytime. Unlock more music with Amazon Music Unlimited, just $7.99 per month for Prime members ($9.99 per month for non-Prime members). Audible offers more than 180,000 titles in audiobooks, including best sellers, romances, thrillers, and much more.
Play
Fire tablets feature instant access to over 600,000 of the most popular free and best-selling games, social media, premium TV and movie provider apps, and so much more. Choose from top titles including Candy Crush Saga, Township, Mobile Strike, and more.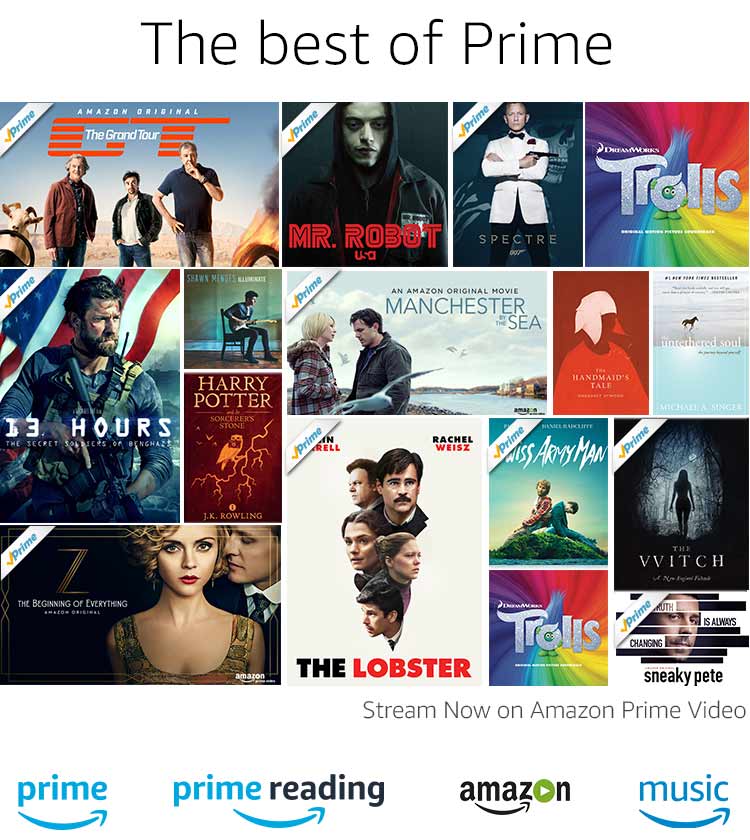 Try Prime free for a month
If you haven't tried Amazon Prime in the past, we'll give you a 30-day free trial. Experience what millions of members already enjoy—unlimited streaming of thousands of hit movies and TV episodes, ad-free access to over a million songs, over a thousand Kindle books, and Free Two-Day Shipping on millions of items
Unlimited reading on any device
Prime Reading gives you unlimited access to over a thousand books, current magazines, comics, Kindle Singles, and more. With any device—including your phone, tablet, or Kindle—you can read however you want, whenever you want.
Stream thousands of movies and TV episodes with Prime Video
With Amazon Prime, members enjoy unlimited streaming of thousands of movies and TV episodes at no additional cost, including award-winning Amazon Original series Transparent, top HBO shows like True Blood, Girls, and Curb Your Enthusiasm.
No Wi-Fi, no problem—Prime Video downloads
Exclusive to Prime members, download thousands of Prime Video movies and TV episodes. Watch downloaded videos anywhere—on a plane, on vacation, in the car, or wherever you don't have a wireless connection. Prime Video offers offline viewing at no additional cost.
Over 2 million songs free with Amazon Music
Prime Music is a benefit of your Amazon Prime Membership, featuring a growing selection of 2 million songs, always ad-free and on-demand. Unlock more music with Amazon Music Unlimited, just $7.99 per month for Prime members.
Add HBO, SHOWTIME and more to Prime
With Amazon Channels, Prime members can also subscribe to over 100 premium and specialty channels like HBO and SHOWTIME to add and stream—no cable or satellite subscription necessary. Prime members can subscribe to any or all of these channels with a free trial.
Brilliant 10.1″ 1080p Full HD display (1920 x 1200), up to 1.8 GHZ quad-core processor, 2 GB RAM, and up to 10 hours of battery life.
Our largest display, now with over 2 million pixels, stereo speakers, Dolby Audio, and dual-band 802.11ac Wi-Fi-perfect for watching Full HD video, playing games, reading magazines, and streaming content seamlessly
Use Alexa hands-free mode to pause videos, play music, open apps, show sports scores, display the weather, and more-just ask
Call or message almost anyone hands-free, or make video calls to family and friends with a Fire tablet, Echo Spot, Echo Show, or the Alexa App. Instantly connect to enabled Echo devices.
32 or 64 GB internal storage expandable by up to 256 GB (using the microSD slot). Watch downloaded videos anywhere with a Prime membership, Netflix plan, or Showtime subscription.
Enjoy millions of movies, TV shows, songs, Kindle eBooks, magazines, Android apps, and games-including Netflix, Facebook, HBO, Spotify, and more
Prime members get unlimited access to over a thousand books and magazines, millions of songs, and thousands of movies and TV episodes-at no additional cost